Redgate Mastiffs
Redgate Farms is located east of Greeley Colorado between the Pawnee Grasslands and the front range of the beautiful Rocky Mountains. It is bordered on the south by the South Platte River on the west by the Cache La Poudre River and on the east by the Lone Tree Creek. Redgates southern border was the sight of the river scenes for the television mini-series Centennial. The farm itself is basic, rustic in nature and more functional than fancy.
See pictures of Redgate on the links at the bottom of this page :-)
| | |
| --- | --- |
| | Prior to the purchase of Redgate, my husband Darrell and I owned New Horizon Hot Air Balloon Company based in Fort Collins Colorado. We gave commercial balloon rides to tourists and locals alike on the front range and also at the ski resorts. If you ever have the chance to go ballooning, it's a must. There's nothing that can compare. |
Darrell and I do not make a living on our Mastiffs.
We both have regular full time jobs. Besides our mastiffs we also have Thoroughbred, Andalusian and Quarter Horses. I used to compete in jumping and 3 Day Eventing some 25+ years ago. Now, do to time constraints my riding is pretty much for pleasure only. We still keep our eyes open for horses in need of rescue, rehabilitation, retraining and reselling. There are many success stories to tell but that's a whole different story entirely.
See some of our horse photos here.
We have owned Mastiffs since 1995.
While I do show our dogs, our lives do not center around the show ring.
Above a great group shot of the Grizz Kids!
Many, many years ago...
Showing gives us the chance to get together with our friends and their dogs
on a beautiful day and have fun.
Redgate has had a great deal of success in the show ring
however, the fact that we win or loose is irrelevant.
The link called FUN SHOW DAYS is just for that purpose.
"It's a Great Day, lets get a picture!"
* * * * * *
Our Mastiffs are our companions and our guardians. They have a job to do. Protect the house and the couch most of all. Our Mastiffs live together as a family unit that is 5 generations deep now. From Sky at almost age 11 to the pups at 6 months, all of our Mastiffs live loose in the house and watch tv on the big screen as one of the family.
* * * * * *
Below is one of the latest pictures of some of the girls taking a stroll on a nice spring day.
Photo taken on March 31st, 2010. Finally the snow is gone and the yard is dry!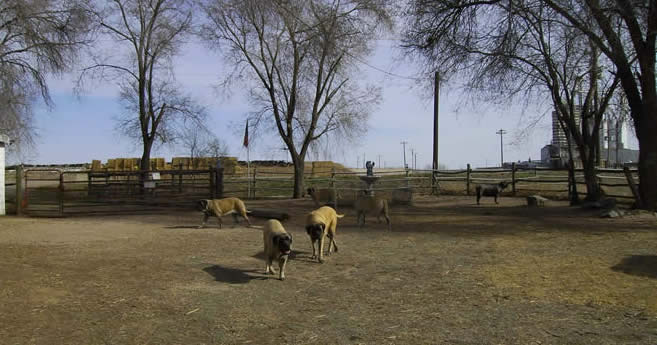 ~ Redgate Front Yard ~
The girls from left to right.
Folly, Brittney, Angel, Fancy in the back, Annie and Raven by the fence.
We believe very strongly in genetic testing as a guide for our breeding selection process and now 5 generations later our diligence has paid in dividends. Temperament is always a top priority. Redgate Mastiffs has occasional litters, about 1or 2 per year, the PLANNED BREEDING page will inform you on what breedings may have pups that will be available to select homes. All pups are sold with a strict written contract and a health guarantee. We expect greatness from our future stars and strive to place our show puppies in homes who can enjoy the experience of having an outstanding representation of what a Mastiff is and go onto be a true show winner in the ring. Please check out our PUPPIES AVAILABLE, FUTURE STARS pages to see some of our up and comers and our REDGATE CHAMPIONS page to see some of our greatest contributions to Mastiff stardom!
Below are some links of photos I've taken around the farm.
Almost the exact same spot on March 24th, 2010.
June snowpack runoff and flooding of 2010.
The view out the window...