These pups were Born July 11th, 2011
Meet the parents!
THE PEDIGREE
of both the
Armoni X Jewel
and
Armoni X Ruby
litters is the same ~ Ruby and Jewel are sisters.
BRITESTAR'S REDGATE CRUSADER

CHAMPION
REDGATES BIG COUNTRY MCLEOD


MAJESTIKS RAHZELL OF REDGATE

CHAMPION
REDGATES IF LOOKS COULD KILL
CHAMPION
AGAPE'S ALLSHOOKUP AT NEWGATE
CHAMPION
REDGATES BRILLIANT DISGUISE
CHAMPION
ROCK SOLIDS HAVEN OF REDGATE

REDGATES EMPERORS WALTZ

CHAMPION

REDGATES COMMAND PERFORMANCE

CHAMPION

MONUMENTAL STONEGAIT SCARLETT

BOTH

DAM'S

are

FULL SISTERS

1 year apart!

CHAMPION

REDGATES NATIONAL TREASURE

and

GRAND CHAMPION

REDGATES ALL THAT GLITTERS

CHAMPION

BRITESTARS KODIAK BANDIT

CHAMPION

REDGATES RAVE REVIEW

CALEDONIAS MAGNUM ECLIPSE
Here they are...
The kids are growing up!
Thank You Rachel Diller for the photo shoot.
Individual Pages now under construction!
Sorry folks...

Shes staying here at Redgate!

x

x

x

x

x

Congratulations,

to the Fine Family

of Parker Colorado!

click on Maggies name

to go to her page

Congratulations,

to the Jongsma Family

of Fort Collins, Colorado!

click on Otis' name

to go to his page

Redgates U.S.Navy Seal Danny Deitz

Congratulations,

to Mark and Lois Sardakowski

of Brighton, Colorado

their Armoni Son is a reality!

http://www.littletongov.org/history/dietz/default.asp

Congratulations,

to the Bob and Brenda Vomela

of Parker Colorado!

xx

x

x

x

x

Congratulations,

to the Slaughter Family

who now own two brothers...

What a set of bookends!

x
* * * * * *
* * * * * * Jewels litter ~ In the beginning * * * * * *
* * * * * * Puppies were born on July 11th, 2011! * * * * * *
* * * * * *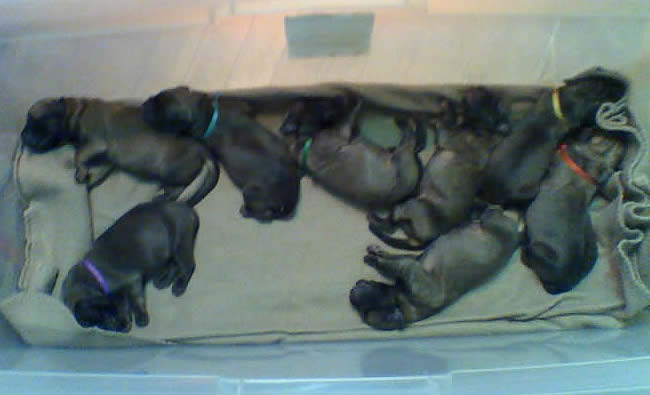 6 Big handsome Boys ~ and ~ 2 Beautiful Girls!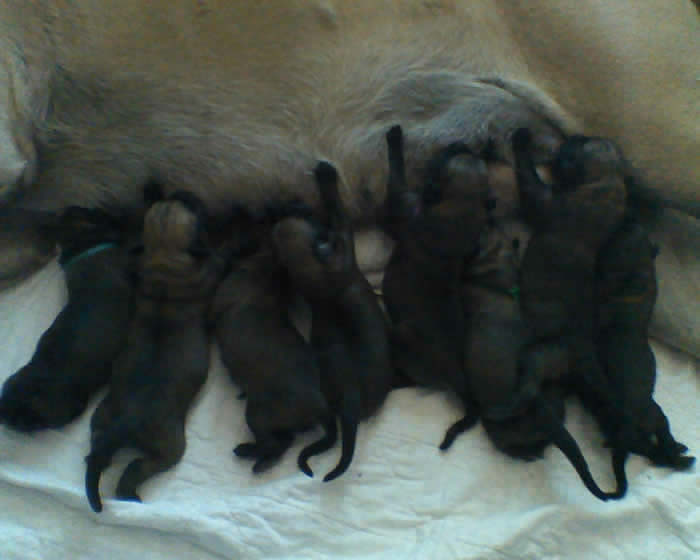 All the puppies are fawn and have very dark pigment!
They almost look brindle in the picture above...
* * * * * * * *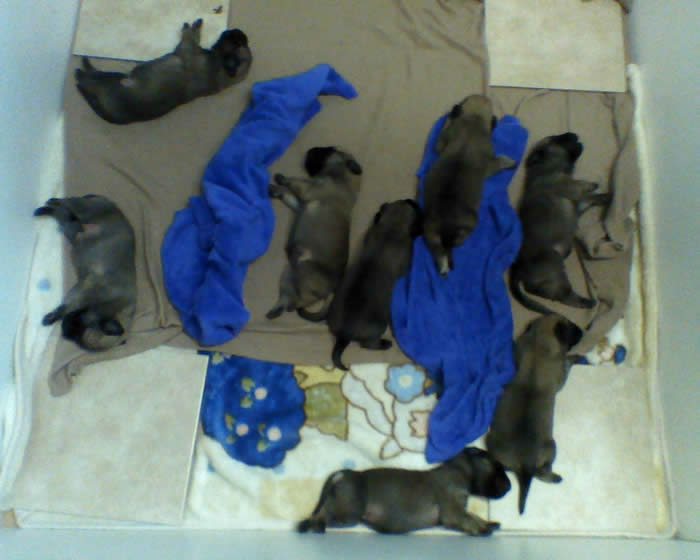 July 22nd, 2011 ~ Puppies are 11 days old today!
Took this picture this morning with my cell phone after putting the babies to bed.
Pups are growing like weeds and doing great. They've tripled their size in a week!
They out grew their 14"x30" tub they were in and moved into the 4'x4' puppy box today. Those are 12"x12" tiles in the corners for them to lay on because its been so hot it helps cool them off. Its also a good frame of reference on just how big they got this week!
Jewel is being such a good Mom and has enough milk to feed everyone so far without any supplimental feedings. I'm ecstatic!
* * * * * * * *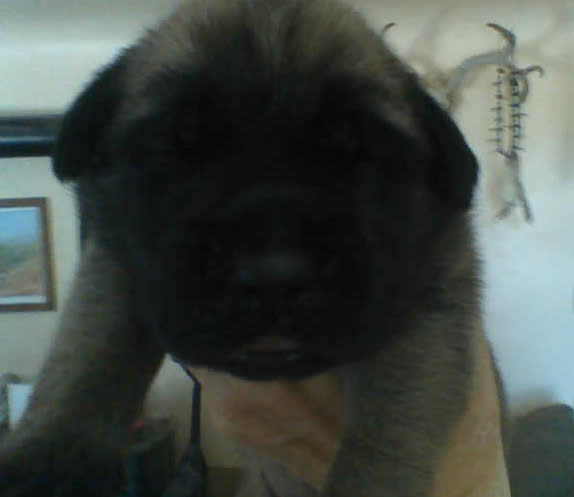 Happy 2 week birthday little one :-)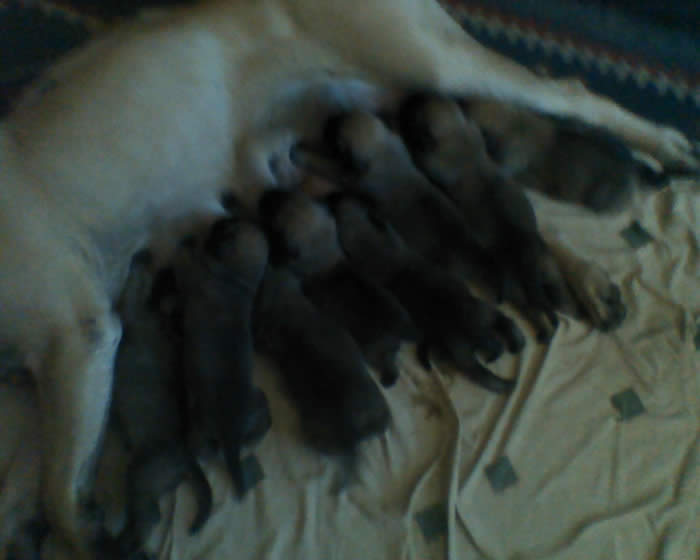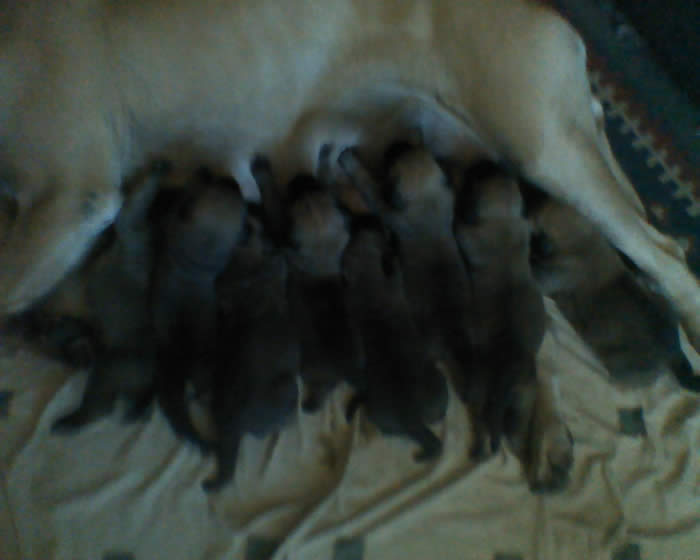 July 25nd, 2011 ~ Puppies are 2 weeks old today!
Nice big puppies so far... Biggest male is 4 pounds today and Smallest Female is 2 1/2 pounds.
Everyone doing great :-) There are some great heads in this litter! I'm waiting for there eyes to open. They are starting to hear things a little bit I think and starting to see light through their eye lids so their lifting there heads to look up now. They are in their early attempts to stagger around but doing more face plants than anything else... Cute, cute, cute!
* * * * * * * *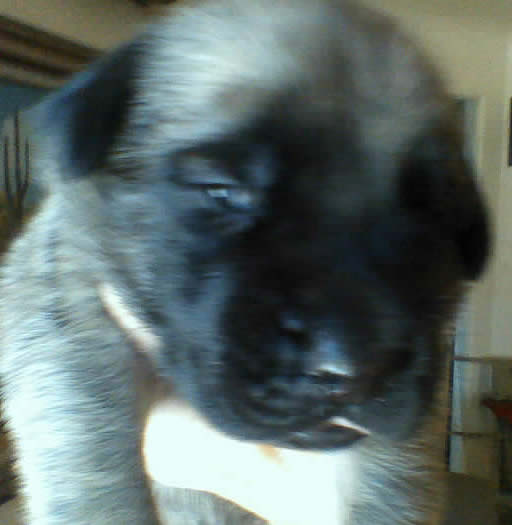 July 28th, 2011 ~ Puppies are 16 days old today!
Not a great picture, but I'm starting to see some sparkles in those eyelids...
It won't be long now :-)
* * * * * * * *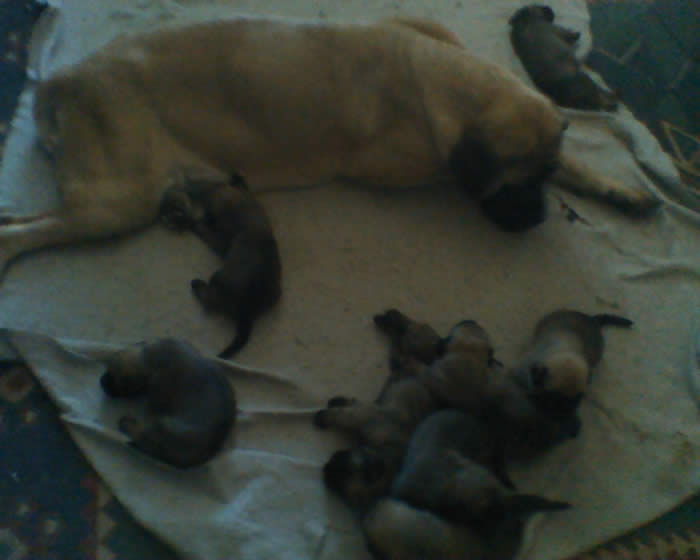 July 29th, 2011 ~ Puppies are 17 days old!
Again not a great picture, because I took it with my cell phone...
Pups with Mommy Jewel just after their breakfast.
Almost everyone has eyes starting to open.
They're starting to move around on their legs instead of belly crawling :-)
Jewel loves her pups and is a good mom.
* * * * * * * *
August 31st, 2011
Well today was a big day for Mom and the puppies!
First Vet visit for shots, worming and physical exams.
Then off to another Vet 40 minutes away in Loveland, for the pups CERF (eye exam).
They all got Crest Check ups including Momma!
Everything present and accounted for!!!
PLUS ~ Clean eyes for everyone!
Yippee!!!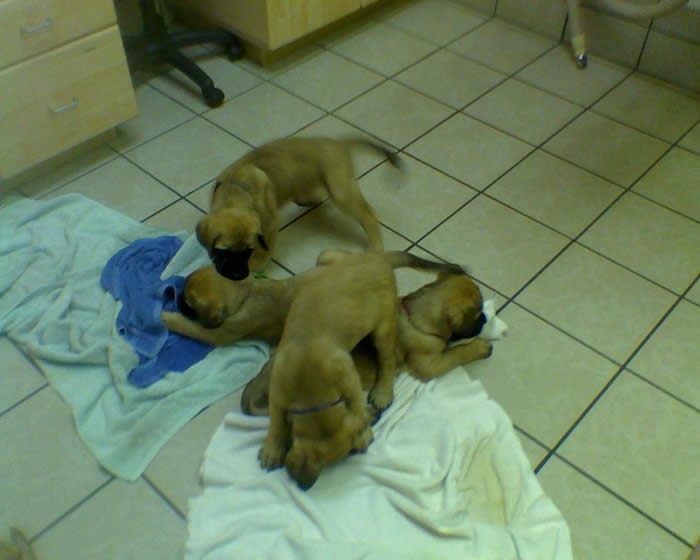 They were so happy to get into the nice cool Vet office after the drive.
They all broke out into a good 1/2 hour of wrestling with each other
and exploring every nook and cranny!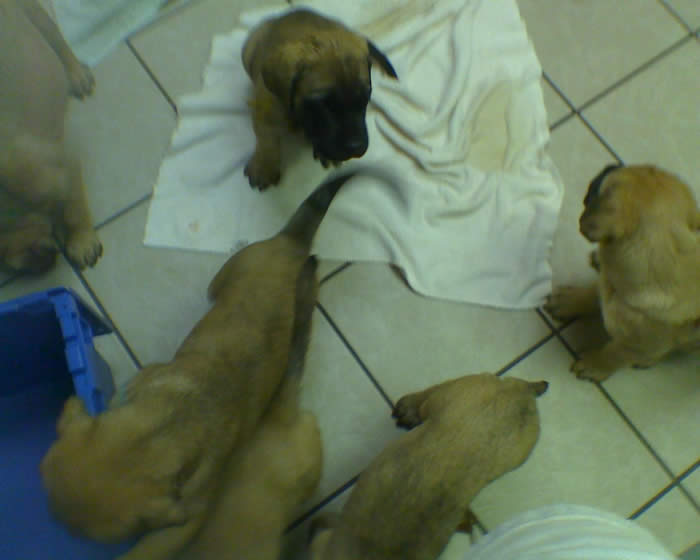 Oh boy were they busy!
The place may never be the same again :-)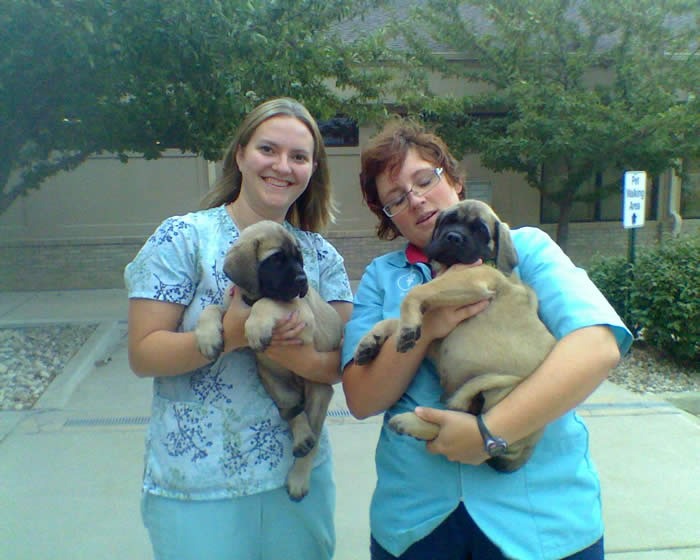 I think they were just happy to see us go :-)
Awww...
* * * * * * * *
September 30th, 2011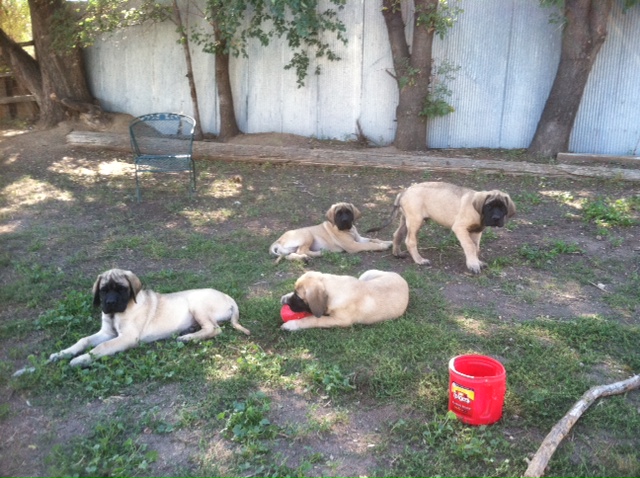 The final 4, hanging out in the yard...
From left to right
Josie, BOO chewing on the can, Prince in the back, Shadow walking to the right...
Click on the names below to go to that puppies page.
Anyone interested in one of these beautiful babies please feel free to contact me!
Click here to review my contracts.
Home number is 970-353-4320
Cell number is 970-518-7737
or you may email me at redgatemastiffs@gmail.com